I've been participating in the Goodreads reading challenge ever since I made an account and this year I set my goal to twenty books. I've currently read thirteen books, so I'm well under way to get to twenty. If all goes well, I might even end up reading a book every two weeks. That's a nice average. My girlfriend Bren has infected me with her reading virus, so I find myself reading a whole lot more and whenever we can we love spending our free time reading together. 🙂
There's always a ton of books I want to read, but as all readers know time is a big problem. I've found that whenever I choose five books to read I'll at least read all five of them and I allow myself to choose the order as well. They're all books I want to read, so I never end up with books I don't want to read either. This method keeps me motivated to read 🙂
As usual my selection is a mix of fiction and non-fiction. Of course, as a good fanboy, I can't leave out a couple of Star Wars novels! 😉
Sapiens – a brief history of humankind — Yuval Noah Harari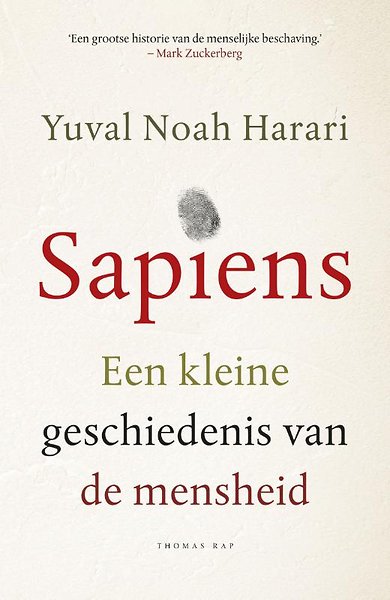 This book was recommended to me by several avid reader friends. When we were at bookstore Haasbeek in Alphen aan den Rijn Bren gave this book to me. I'm reading the Dutch version, as you can see in the picture above. I started reading this book last weekend, when we were away with the family. So far it's very interesting stuff. If you're interested how we have come this far as Homo Sapiens, this book is an absolute must read. My review will follow somewhere soon™, but I'm already very enthusiastic about it!
Warrior Cats – Into the Wild — Erin Hunter
This series takes up a prime spot in one of our bookcases at home. Bren loves this series so much that she made me eager to read it myself. Since I love cats, I'm fairly sure I'll love this series. Whether this is true, you'll find out in my review, of course! 😉
Star Wars Thrawn Alliances — Timothy Zahn
This book is the sequel to Thrawn, which I'm currently reading. Timothy Zahn is, without a doubt, the best Star Wars author I know. The first book in this trilogy has a firm grasp on me, and Thrawn is simply one of the best, and most deep characters in the Star Wars universe. Now that Thrawn has been placed in the glory days of the Galactic Empire there's a lot of opportunity to create great stories, including this one, which places Thrawn together with none other than Darth Vader himself! I'm sure that by the time I finish Thrawn I want to continue reading to find out what's in store next for the blue-skinned Chiss mastermind!
William Shakespeare's – The Jedi Doth Return — Ian Doescher
The first two parts of the Shakespeare editions of the original Star Wars trilogy were super fun and hilarious books. I want to collect them all, eventually, but so far I've read episode IV and V in this form. It's time to read the one based on Episode VI, which is definitely one of my favourite Star Wars movies. I hope this one's as good as the others were, because Ian Doescher has proven to be able to adapt the Star Wars movies into Shakespeare style plays. I'm looking forward to reading this one too!
Hersenhack — Margriet Sitskoorn
This book was a lucky find during our visit to Eerbeek, last weekend. I love psychology books and after reading the premise of this book, I decided to take it with me. It's part self-help and part non-fiction and this book is all about how easily we are fooled by media, corporations and governments. I'm a very skeptical thinker already, and already "armed" with several bullshit detectors, but I hope this book might give me some new insights. This book is written by a Dutch neuro-psychologist, Margriet Sitskoorn. The book is in Dutch, and there's no translation (yet). So I'll probably be writing the review for this book in Dutch too.
No need to be bored!
These five books will probably keep me busy for the next couple of months. As soon as I've read the all, I'll let you know if they held up to my expectations. What's on your ever growing TBR pile? Please drop me a line in the comments! 🙂
Happy reading!
-Jeffrey