BB-8 is arguably one of the best characters from the sequel trilogy of Star Wars. I know he has stolen my heart and that of my girlfriend Bren too. I always find it fascinating how we can feel something for the droid characters in Star Wars. They're definitely among my favourite characters, even if they can't speak and only bleep. I am glad I was able to buy this LEGO set for a reasonable price, because this set's recommended retail price is € 109,99. It's definitely not a cheap set. I was able to get it for around € 90 which seemed a lot more reasonable.
After opening the box you will find six numbered bags, the instruction booklet and a sticker that will go on the display mount in the last step. We ended up taking a whole lot longer building this set than we wanted, but we had a lot of stuff going on so we ended up building BB-8 in about three sessions.
The first bag forms some sort of base upon which the rest of this set is built and a skeleton for the inner work that makes this set so awesome.
The second bag felt like building a LEGO Technic set, with all the gears and studs. But the cool thing is that you can already see that BB-8 can do that thumbs up move like he did in the movie! 😀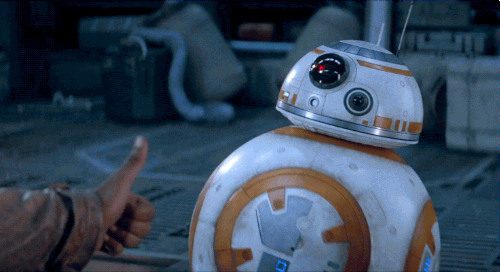 The third, fourth and fifth bag have you build the top and and all of the sides for BB-8's body. The last part in the fifth bag creates a cover for BB-8's thumbs up and the two side circles can be turned to have him perform several different moves; turning his head and doing the thumbs-up! 🙂
The final bag contains everything you need to build BB-8's head and the display he fits in.
Overall BB-8 was a very fun build and it looks like he's been made with a lot of small LEGO pieces. The total building time for us was somewhere around four hours, at a leisurely pace. We have already given him a nice spot right next to Sir Porgsalot. 😛
I also had a BB-8 from last year's May the Fourth, which I placed with it, so now there's three differently sized BB-8's! It would be nice if they added a Brickheadz version of him too at some point!
Overall score: 🌟🌟🌟🌟🌟
Pricing: 🌟🌟🌟
Building fun: 🌟🌟🌟🌟🌟
Displayability: 🌟🌟🌟🌟🌟
I hope you enjoyed this review of the LEGO BB-8 buildable figure!
Happy building!
-Jeffrey